Welcome, beautiful people. Start the new year by increasing your creative freedom!
Series starts in Santa Monica on Monday, January 7, at 6:00pm.  (Sign up HERE.)
Creative Freedom is a unique program with conversation, perspective, guided meditation, Soul Medicine energy healing – for the artist in you. We will also have some intuitive coaching for your specific career or project.
Mon., January 7, 6-8pm

Session 1: 

Art and the Artist
What is Art? Enemies of Art and the Artist, Artist Journey Lesson: Being Present.
Tues., January 8

, 6-8pm
Session 2:  Who Am I?
Artist Journey Lesson: Self-Awareness and Appreciating One's Uniqueness; Increasing Healthy Self-Esteem.
Mon., January 14, 6-8pm

Session 3: Cultivating Your Talent
Artist Journey Lessons: Self-Empowerment and How To Work With Creative Life Force Energy.  A Healthy Relationship With Your "Genius" and Inner Artist.
Tues, January 15, 6-8pm

Session 4: 

Evolution As An Artist
Artist Journey Lessons: Positive Life Lessons From Hard Experiences, Managing Emotions, Evolution of Artist and Humanity.

Why do we need creative freedom?
I know you can relate to this statement by visionary choreographer, Martha Graham:
"There is a vitality,
a life force,
an energy,
a quickening that is translated through you into action,
and because there is only one of you in all of time, this expression is unique.  And if you block it, it will never exist through any other medium,
and it will be lost."
I first heard these profound words during a healing self-growth workshop, while in a deep meditative state.  Suddenly I understood that, regardless of my doubts and confusion about myself, I had a responsibility to my own creative energy and ideas.  It changed my life:  I now had a kind of urgency to access and act on those creative ideas.
As daunting as it can be, creative people have a sacred responsibility to nurture their own gifts and inspiration.  
The creative process is joyful but it can be easily derailed by an inability to trust your own voice, lagging momentum, self-doubts, procrastination, perfectionism and fear of criticism.
One of the least obvious, yet most insidious obstacles for creative people is internalized negative stereotypes about art and artists.

Creative Freedom For the Artist in You is a healing and empowering workshop that provides:
Greater awareness of the blocks and ways to turn them into stepping stones on the creative life path.

Tools to help tap more of your creative energy.

Increased momentum to complete projects and move forward in a creative career.

A more loving relationship with yourself and your inner artist.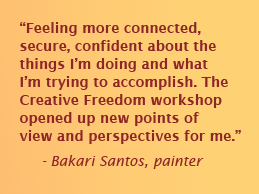 Learn more about how to increase your Creative Freedom.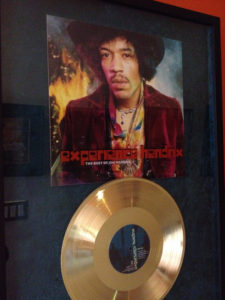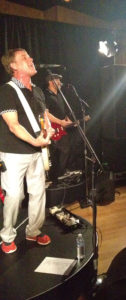 Creative Freedom was designed to help you on your creative life path by communications professional and medical intuitive: Laurie Lamson.
"This program contains everything I wish someone had shared with me when I was struggling to empower myself and heal my inner artist."